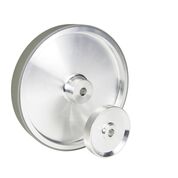 PCA stocks encoder measuring wheels with a 200mm or 500mm circumference, which are useful for mounting onto solid shaft encoders to determine linear displacement.
The possibility of slip can be minimised by selecting an encoder wheel with a surface material that best suites the application.
Our range of encoder wheels offers three surface material options to match with conditions and point of contact material. These encoder wheels are precision engineered to exacting proportions so as to ensure that your speed or displacement measurement is as accurate as possible.

Knurled ALUMINIUM

Textured plastic

Flat plastic
Various hollow bore sizes are available to match your encoder's solid shaft. (6mm, 10mm, 12mm, others on request)
See our range of mounting brackets to help you mount your encoder..
Can't find what you need?
Call ADM on 1300 236 467
A member of our expert team will gladly help you find the right solution for your project or application.